Reto Pulfer and
Sarah Ancelle Schönfeld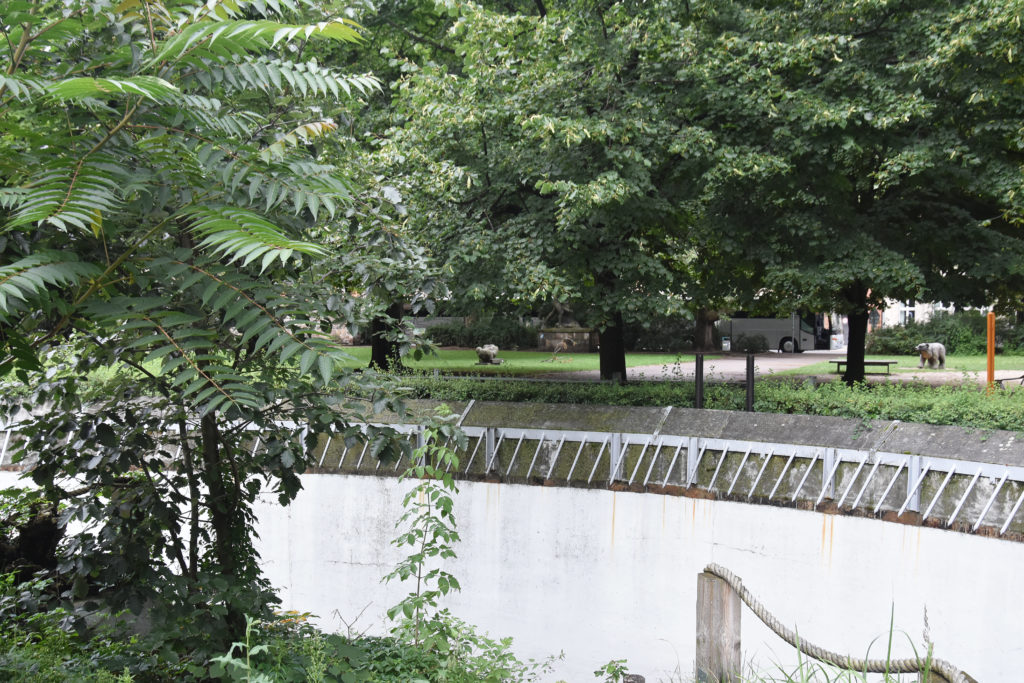 Opening
09/12/2017, 6 pm
Welcome
Sabine Weißler, Bezirksstadträtin für Weiterbildung, Kultur, Umwelt, Natur, Straßen und Grünflächen

About the exhibition
Nadia Pilchowski and Julia Heunemann
Live Performance
by Eisklares Echo [Mia von Matt and Reto Pulfer]
Opening
09/12/2017, 6 pm
Welcome
Sabine Weißler, Bezirksstadträtin für Weiterbildung, Kultur, Umwelt, Natur, Straßen und Grünflächen

About the exhibition
Nadia Pilchowski and Julia Heunemann
Live Performance
by Eisklares Echo [Mia von Matt and Reto Pulfer]

Duration of the exhibition:
09/13 – 10/29/2017

Accompanying program:

Saturday 09/16/2017
3.30pm
Performance by Sarah Ancelle Schönfeld
Sauna infusion and herbal tea: fig/linden

Sunday 10/29/2017
11am – 7pm
"Fountain of Liver Tea"
Performance by PPKK
(Schönfeld & Scoufaras)
With a double exhibition by Reto Pulfer and Sarah Ancelle Schönfeld, the Bärenzwinger opens as a new exhibition venue in Berlin-Mitte. Side by side, the artists of the site's debut exhibition search for traces within this historical site: which are visible, smellable, audible, imaginable, perceptible, since the last bear, Schnute, died almost two years ago, leaving an animal-human absence in the bear pit?

The exhibition title points to the perhaps most transient of traces that can be experienced on-site. For Ursus Olfaciens, this means the scent left by the bear and the belonging sense of presence after its death, and at the same time, plays on the animal's pronounced sense of smell – likely a constant confirmation of human presence.
The cooled, abandoned rooms are heated. Sarah Ancelle Schönfeld, known for her work with alchemical processes, transforms the site into a sauna by means of a heated oven made from found stones which open wide the pores of the old masonry, the iron grating and steel doors of which bring to mind a small, cramped fortress. Within the pit, paralysis and numbness can dissolve, be set in motion, transform, detoxify. Schönfeld brews a site-specific sauna infusion and tea with herbs and berries picked from the vegetation-rife outdoor enclosure, as well as from the surrounding park, which visitors can imperceptibly absorb, experiencing the essence of the bear pit. Newly constructed connections to the water system of the bear pit, through to the guard rooms, the drinking troughs of the bear cages, the water basins and the trenches of the enclosures, create an experimental well.
Reto Pulfer covers the skylight in the central space of the bear pit with a transparent textile in green and blue hues. The patchwork of fabric shows a map of Bern, birthplace of the artist and origin of Urs and Vreni – a gift from the city and the first pair of bears to inhabit Berlin's bear pit.

At the same time, the cloth can be read as an astronomical map of the galaxies in the constellation of Ursa Major. It engulfs the room with an intimate green-blue light, the view is steered into the interior of the bear cages and into the guard rooms. Straws on the floor, dust and cobwebs on the walls and bars, scratches on doors and hatches, bite marks in the wood, a calendar hanging on the wall left from 2015, a defunct phone – can all be observed in the rooms with a flashlight. Visitors will also stumble upon a transparent object, roughly the size of an adult brown bear, around which no-one can pass.
In a space once used as a broom cupboard, an installation unfolds that combines fragments from Pulfer's work: enveloped by an expansive, immersive painting, traditionally knotted ropes suspend self-built instruments, raku ceramics, power cables found on-site and nettle roots dug up from the right outdoor enclosure. This rhizomatic state is captured onto a small-scale painting. In the left outdoor enclosure, Pulfer allows more space for growing.

The resonance of a gong sounds farewell and new beginnings. For the exhibition opening's "Eisklares Echo" concert (Pulfer / von Matt), the music and clamor of the iron grating conveys the traces of the bears.

Curated by Nadia Pilchowski und Julia Heunemann
Sarah Ancelle Schönfeld
Sarah Ancelle Schönfeld (*1979 in Berlin) completed her studies in fine arts at Berlin University of the Arts in 2006. In her works, she reflects forms of the emergence of knowledge, power and truth. It incorporates methods from natural sciences, religion, archaeology or alchemy and implements them in various media such as photography, print, sculpture, installation or performance.
Her works have been shown at numerous solo and group exhibitions, including the Gildar Gallery (Denver, USA), Aether Project Space (Sofia, Bulgaria); Zabriskie Point Geneva; Galleria Marso (Mexico City) and Goethe Institute (St. Petersburg), as well as in Hamburg's Kunsthalle, Hamburger Bahnhof (Berlin); Fotomuseum Winterthur in Switzerland and Muzeum Ludwig in Budapest.
Schönfeld was granted a travel scholarship by the DAAD in 2005 and 2008, resident at Villa Aurora Los Angeles in 2011 and received the FOAM Talents Award of the Fotomuseum, Amsterdam in 2014. She lives and works in Berlin.
Together with Louis-Philippe Scoufaras (*1981, Montreal) Sarah Schönfeld formed the duo PPKK, founded in 2016. The duo see their collaboration as an informal nomadic lab which seeks to extract sources and meanings of specific contexts.
Reto Pulfer
Reto Pulfer (*1981 in Berne) grew up in Arlesheim, Baselland and lives in Berlin. His space-filling, immersive installations from fabrics and found materials continue in performances, novels, music and painting. Since 2012, he has accompanied Mia von Matt under the name Eisklares Echo with improvised and music performances lasting several hours. In 2017, his monograph Zustandskatalog: "Catalog of States and Conditions" was published by Sternberg Press and featured at five individual exhibitions in 2015-2016, including: Center d'Art Contemporain Genève; Musée régional d'art contemporain Occitanie / Pyrénées-Méditerrannée, Sérignan; Spike Island, Bristol; Center international d'art et du paysage de l'île de Vassivière; Fórum Eugénio de Almeida, Évora.
Eisklares Echo is the collaboration of Mia von Matt and Reto Pulfer. The music performances by EE are attempts in transformation and rely on the intimacy of improvised timing. With synthesizer, electric guitar, kalimba, electronics, words and effects the duo creates extended, powerful soundscapes embedded in minimal visual magic. They formed in 2012 and played at galleries and clubs like Dingum, Berlin, Haus der Kulturen der Welt, Berlin; Swiss Institute, New York; Kosmos Theater, Vienna; Acud, Berlin.
Fountain of Liver Tea
Sunday 10/29/2017
11am – 7pm
Performance by PPKK
(Schönfeld & Scoufaras)

PPKK is a casual nomadic lab founded by Sarah Ancelle Schönfeld and Louis-Philippe Scoufaras, in the pursuit of analyzing and reflecting upon specific (local) contexts, generating mythological and technological outputs in order to shift perspectives and enable new interpretations. PPKK is excited to transform the former bear kennel into a fully functional steam sauna.
"The Fountain of Liver Tea" serves as the heart of this one day performance: a device created from a hacked washing machine that automatically produces a herbal infusion and subsequently spits it onto the heated rocks for aromatic steam and pours it into the visitors' cups for simultaneous ingestion. The herbs that spin in the machine were hand-picked on the terrain of the Bärenzwinger and contain a controlled combination of various healing properties based on herbalistic studies. The heated stones were also found in the urban surroundings of the compound. The presence of humans in a state of relaxation in the heated and humidified architecture with recalibrating steam and sounds of the sequential spinning cycles will cathartically sedate the melancholia that floats in what used to be a bear prison.
This event is free of charge and the participation in "The Fountain of Liver Tea" is limited to 10 visitors per time slot. Each slot extends over a period of two hours (11am-1pm; 1-3pm; 3-5pm; 5-7pm.)

Please pick a precise hour of our time-table at which you punctually appear and register RSVP ASAP by sending an E-Mail to fountainoflivertea@
baerenzwinger.berlin.
After successful registration you are required to bring your own towels, slippers, toiletries and bathing suit.
Kindly note that on October 29th the Bärenzwinger is only accessible for registered guests of the performance. For conservational reasons Reto Pulfer's works in the exhibition are on view only until 28.10.2017.
Curated by Nadia Pilchowski and Julia Heunemann